Red Hot & Blue Today !
Our BBQ theater is designed with the customer experience in mind. In this video, our Red Hot & Blue CEO walks you through our delicious new process.
Our Story
If you're looking for authentic southern style BBQ, look no further than Red Hot & Blue. We're a full-service, blues-themed group of restaurants serving up signature hickory smoked BBQ favorites, and regional specialties for over 30 years. Red Hot & Blue is honored to be one of the truly great barbeque companies in America delivering tradition and value each and every day. We're curious about the history of BBQ and are committed to bringing our guests an experience that showcases this history.  Guests enjoy our exceptional food, served with a great big dose of Southern Hospitality.
How It All Began
The very first Red Hot & Blue restaurant was opened in Arlington, VA in 1988 by Tennessee Congressman (and later, Governor) Don Sundquist, his staffers Wendell Moore and Joel Wood, and PBS White House Correspondent Bob Friedman.  These friends shared roots from the south, a love for good ol' southern BBQ and great blues music.  When they couldn't find a DC joint that served their beloved authentic Memphis-style bar-b-que, cooked "low and slow" over hickory logs, they started their own.  The late Lee Atwater, a scorching hot blues guitar player who had just managed George H.W. Bush's successful Presidential Campaign, became a partner.
They amped up the BBQ by adding blues, soul, and R & B music, providing a comfortable space that incorporated the blues music of the time and authentic Memphis-style barbeque. And so, Red Hot & Blue was born. With the likes of Rolling Stone Ron Wood, B.B. King, Isaac Hayes, Sam (of Sam and Dave), Joe Cocker, and Rufus Thomas, among dozens of other stars stopping by, you couldn't get into the place.
How We Got Our Name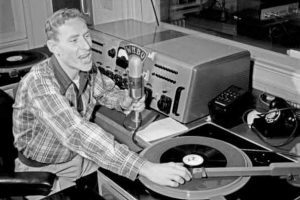 The name Red Hot & Blue is taken from the title of DJ Dewey Phillip's radio show that aired on WHBQ-AM in Memphis, Tennessee in the 1950s.  Still recognizable today, DJ Dewey Phillip's radio show introduced the world to Elvis Presley, Jerry Lee Lewis, and Johnny Cash and broadened the audience for artists like B.B. King, Muddy Waters, Robert Cray, and Rufus Thomas.
The atmosphere at Red Hot & Blue captures the essence of this timeless era with its handpicked blues memorabilia, featuring both classic and current rhythm and blue tunes playing in the foreground.  We continue to pay tribute to the influence the blues has had on American culture.
Sonny … Our First Pitmaster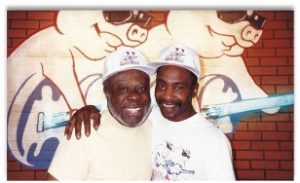 In the early days, Red Hot & Blue had one portable, outdoor smoker in which all the meats were smoked. As the story goes, the Alexandria County Health Department did not allow outdoor smokers so whenever the smoke was billowing high, a health director arrived and asked the restaurant to turn it off.
Pitmaster, Sonny McKnight, Red Hot & Blue's first employee, recalls how he would load the portable smoker onto his truck and drive for hours around the Washington beltway until the food was cooked. With two-hour nightly waits for dinner, he was determined to keep up with demand, and stay just a step ahead of the health department.
The Arlington Red Hot & Blue restaurant was a bipartisan hot spot. "It was common to see Congressmen from opposing political parties playing in the band together or sharing a rack of ribs and a cold brew," McKnight said. "Red Hot & Blue was the first to introduce Washingtonians to full-flavored, authentic Memphis-style barbecue and true Southern hospitality."
Red Hot & Blue started from humble beginnings with just one portable smoker to smoke all the meat. It was this smoker and Sonny McKnight, the pitmaster, that were the building blocks of success.
Nothing But The Best…(a bit about our menu)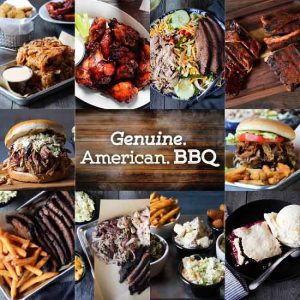 The core of Red Hot & Blue's offerings is hickory smoked meat ribs, pulled pork (barbecue), smoked chicken, tender beef brisket, smoked sausage, southern fried catfish and our very own line of signature barbecue sauces.
Only the finest U.S.A. produced meat, fresh produce and ingredients are used. Our barbecue is cooked slowly using hickory logs, at low temperatures and long cooking times. Freshness is key; for example, our famous 'Grandma's Potato Salad' is homemade every four hours so it is always fresh!
Menus feature appetizers, salads, entrees including ribs, pulled pork, brisket, chicken, beef, seafood, and a variety of Southern sides and homemade desserts. Guests are able to sample traditional Memphis, Texas, North Carolina and other styles of barbecue. Local favorites are featured on many of our menus.
Barbeque is said to be one of the only "truly American" foods and its history is firmly rooted in the South. We pride ourselves on giving our customers only the best when it comes to the southern barbeque experience. We can't wait to see ya!