There's only one way to say it – we love BBQ and believe it's an honor and privilege to serve our finest BBQ to the community!
We keep things pretty simple at Red Hot and Blue. Our culture was established decades ago and hasn't changed since – awesome BBQ, genuine southern hospitality, and tons of fun. The foundation of our culture starts with our people – our team – and we take care of each other through thick and thin. Our doors are always open to folks who want to join our team so if you're interested – stop on by! We'll set you up with a cold iced tea, some great BBQ, and introduce you to our remarkable crew. If easier and more convenient, feel free to fill out an application online and we will promptly reach out.
Have a blessed day!
Qualities of an Exceptional Candidate & Values
Do these statements describe you?
• Takes pride in delivering the best quality guest experience day in and day out.
• Enjoys being part of a team that has a ton of fun while working hard.
• Possesses an infectious positive attitude and a desire to learn new things.
• Comfortable communicating ideas and feedback to help improve the way we do things.
• Genuine, honest, and always does the right thing even when others aren't watching.
We are always exploring new ways to take care of our team. Here a few things you can expect from us if you decide to join:
• 401K retirement plan w/ employer match*
• Health Benefit*
• Paid Time Off
• Consecutive Days Off
• Red Hot & Blue Uniforms
• Career Advancement Opportunities
• Incentive Compensation for all positions
• Referral Bonuses
*Conditions dependent on employment contract
What you want is up to you, make a living surrounded by 'que!
Here's a breakdown of what ya earn by position.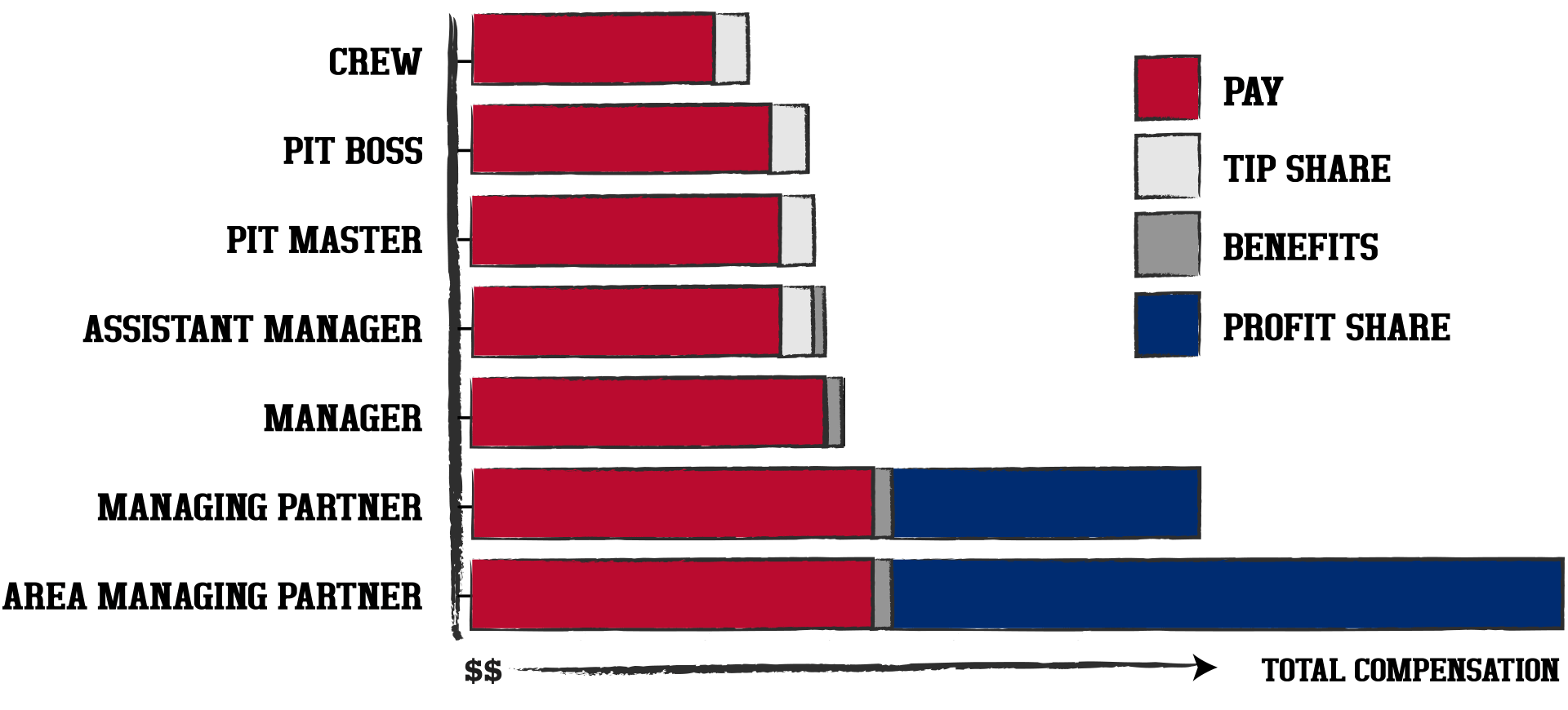 *Profit share contingent on restaurant performance.